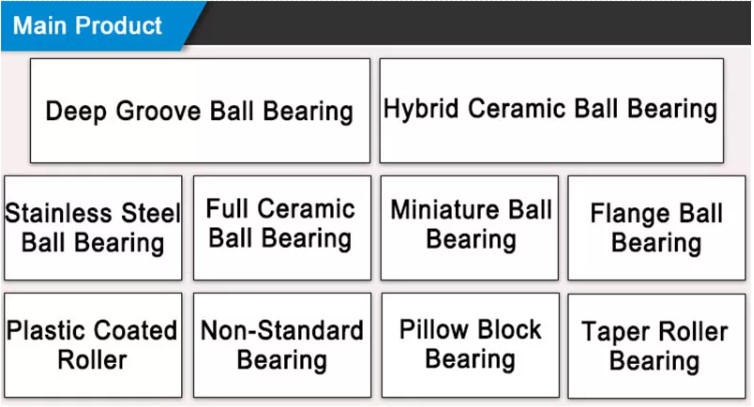 Product Name

Laser Machine Bearing R4 R4-2Z R4-ZZ R4ZZ Shielded Inch Ball Bearings 1/4x5/8x0.196

Brand

Neutral/ No brand

Model No

R4-ZZ

Sizes(mm)

Bearings 1/4x5/8x0.196

Material

Chrome steel, 52100 bearing steel/ 100Cr6

Sealed Type

2RS rubber seals/ ZZ metal shields/Open

Precision

P0, P6/ ABEC-1, ABEC-3

Used

Laser Machine Bearing R4 R4-2Z R4-ZZ R4ZZ Shielded Inch Ball Bearings 1/4x5/8x0.196

, use for all kinds of rolling spplication, tools, machines, rc model, rc car, rc wheel,furniture, printer machines, money machins, home appliance,

cabinet, sliding doors, windows....

Packing

10pcs/tube+ carton

Shipping Method

By Air, Sea, Train, Truck, or other DDP Service
Laser Machine Bearing R4 R4-2Z R4-ZZ R4ZZ Shielded Inch Ball Bearings 1/4x5/8x0.196
R4ZZZZ steel shields deep groove ball bearings inner bore 1/4, outer diameter 5/8, width 0.196mm, it made of chrome steel material, widely use for rolling systems, furniture, sliding door window, tools, machines.... this list Bearing R4 R4-2Z R4-ZZ R4ZZ Shielded Inch Ball Bearings 1/4x5/8x0.196 is Inch Ball Bearings of the tolerance grade is ABEC-1, P0 precision, lubed with grease.
R series inch bearings small model size from R1-5ZZ, R2-5ZZ R3ZZ R4ZZ R4A-ZZ R6ZZ R8ZZ R1810ZZ R133ZZ R144ZZ, R155ZZ, R156ZZ R166ZZ R168ZZ R188ZZ R10ZZ R12ZZ ..., also available rubber seals.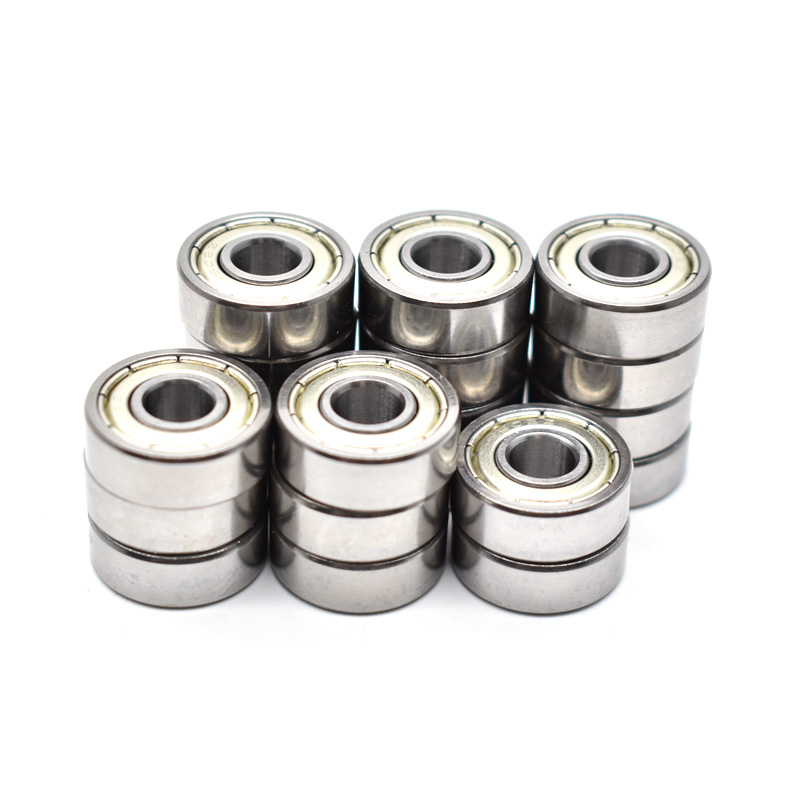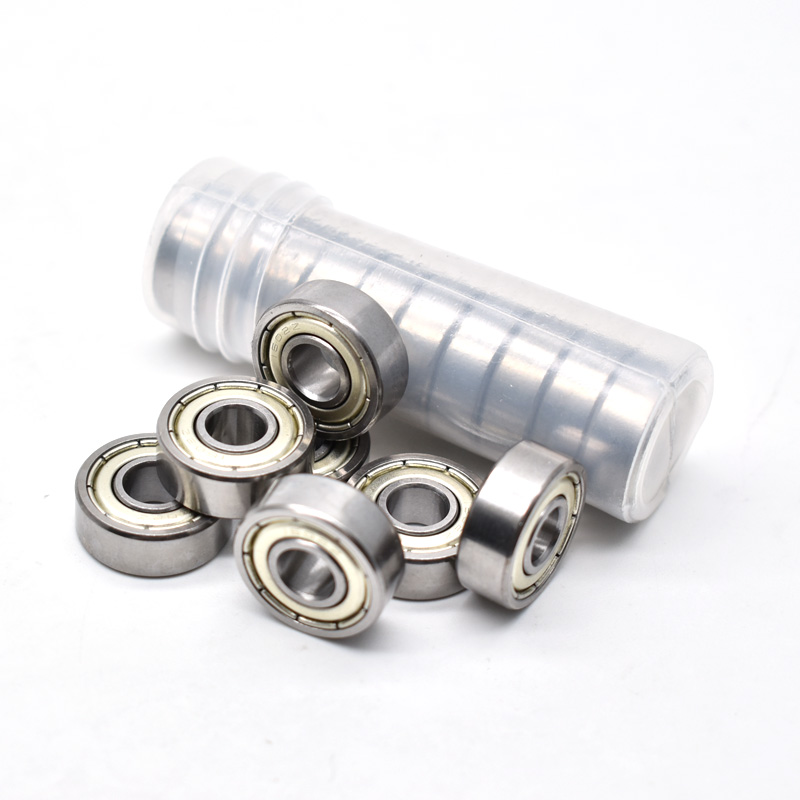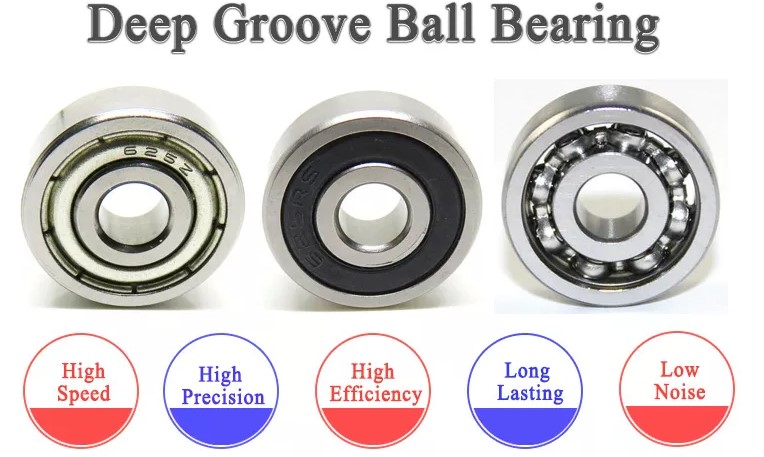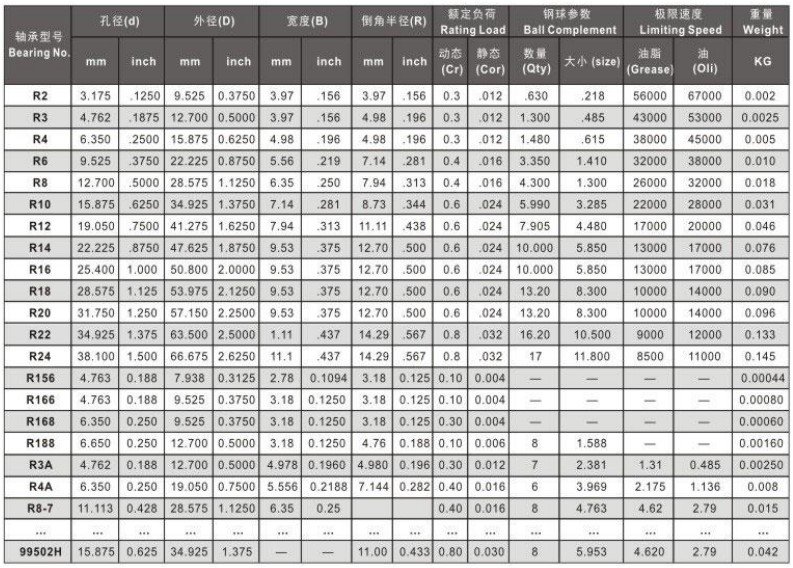 r Series Inch deep groove ball bearings are simple structure and easy to use, are the most widely application bearing, mainly used to support radial load. This kind of bearings with small friction coefficient, low noise, high speed limit, but is not able to bear impact strike, not suitable for a heavy load. According to the user's requirements, we can provide high precision (P6 ,P5), all kinds of clearance and vibration noise level (Z1 and Z2 or V1, V2) bearing.
Bearing cage usually for steel plate stamping ribbon cage, and engineering plastic, copper solid cage also can be used. Large bearing used car system metal solid cage more. according to different use environment ,Sealed bearing can add corresponding bearing special grease. Thin-walled deep groove ball bearing is widely used in robot, automation control mechanical and the occasions which installation space narrow and low load.
Zoty bearing supply RC ball bearing set, hybrid ceramic bearing, stainless steel ball bearing , flanged bearings, one way bearing... widely used for RC models, racing, trucks, boat, cars..